When A.G. and I first walked the empty lot at the top of the hill in Mt. Washington he said this should be our punk phase house, Fitzcarraldo's nightmare, our reaction to building the American dream. In the previous years we had leased a 2,000 SF warehouse space with 2-story high ceilings and no windows in downtown whose inspiring form made it a laboratory for experiments, art, furniture building, and music. We imagined that this new house could be a warehouse on a hill with a studio attached for A.G. to live in.

An alien's spaceship has crash landed on a hilltop and tumbles down slope before it lands upside down on its resting ruins.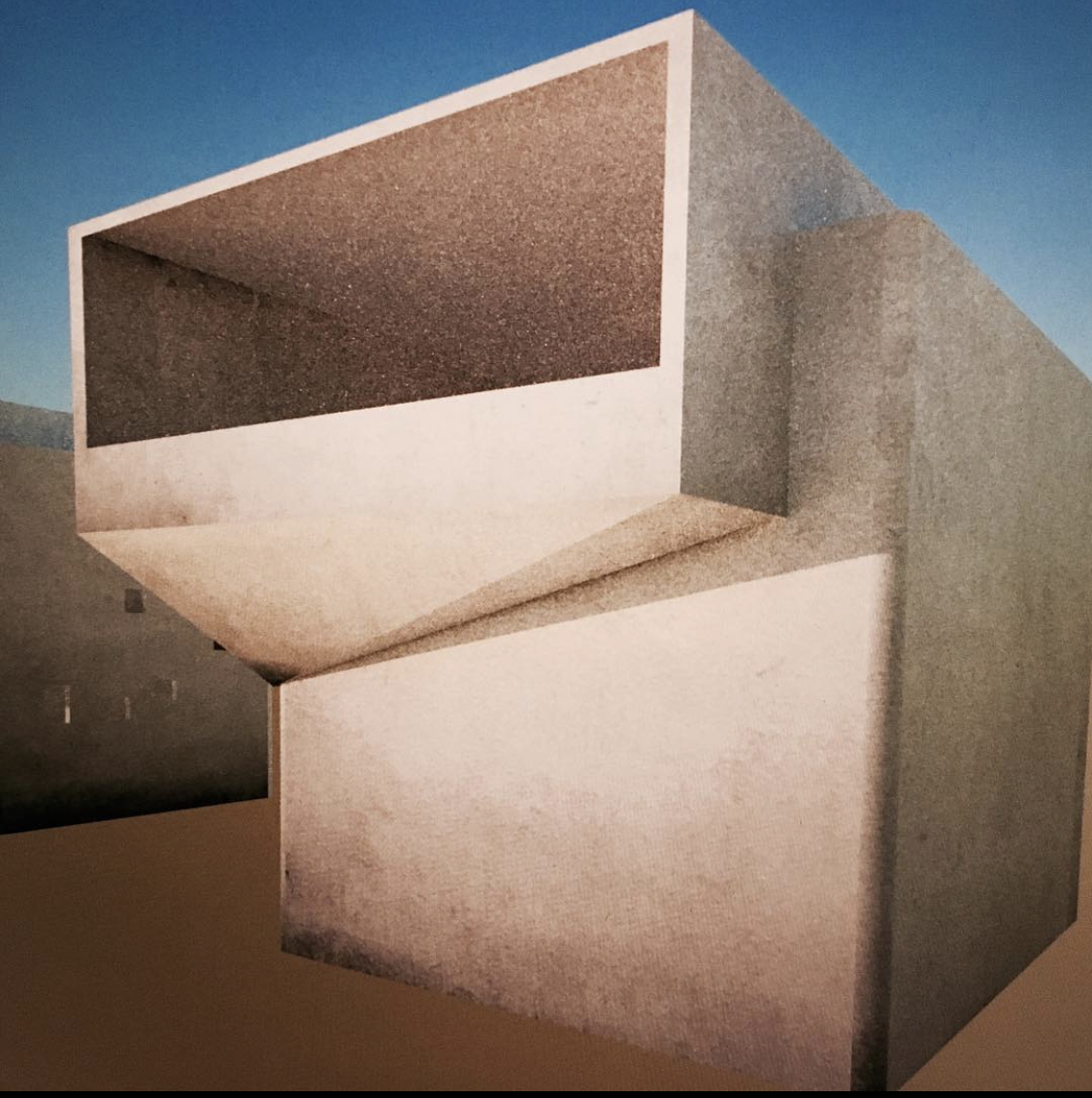 The project is split into 2 levels. The top volume is monolithic sculptural and geometric in shape with the walls puffed out with tessellations like a rock and appears to be floating from multiple vantage points around the neighborhood. The lower level is a cube with site walls protruding from it towards the street that carve out the driveway access.
Upon approach from the street one sees the suspended volume sitting heavily on top of the site walls. There is no front door facing the street and visitors need to contend with the heavy volume by walking around it and then under it. This interstitial space has a low compressive ceiling with a mud room, a concrete carport, a woodshop, and an amphitheater. From here one can see 2 wood doors, one to go up and to go down to the bedroom.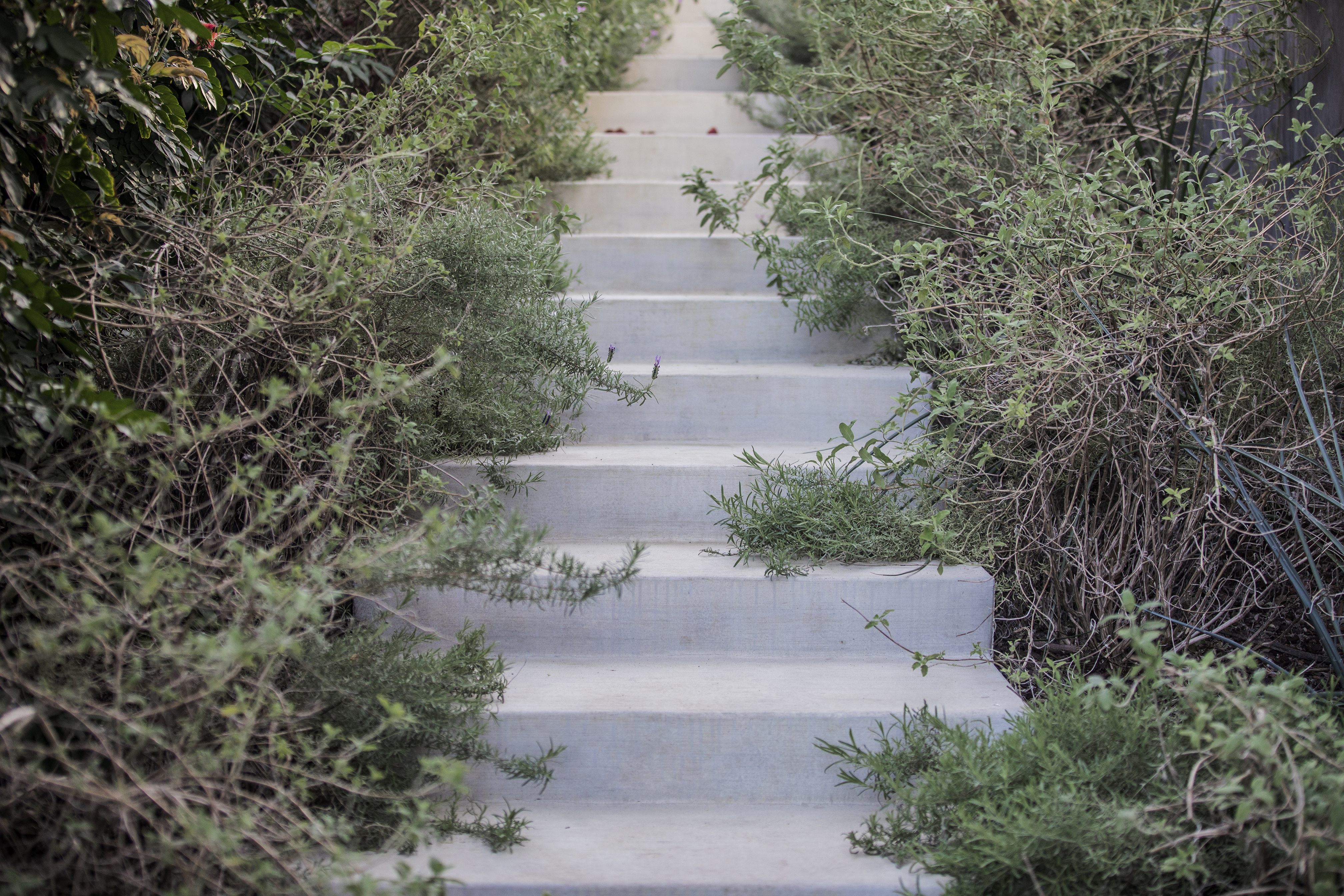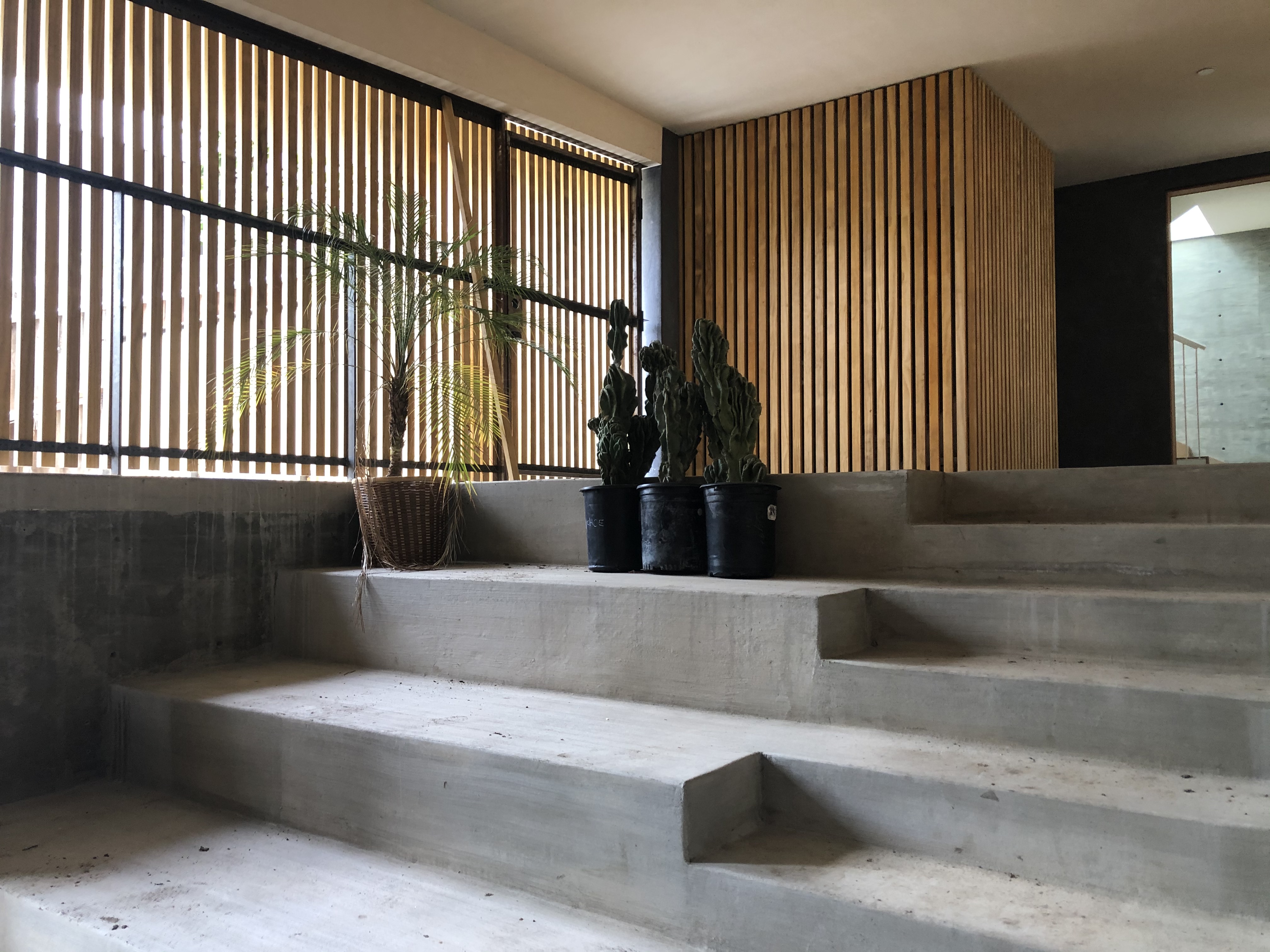 An exposed concrete retaining wall reveals one is underground and the light from the skylight above leads the way up the stairs. The guardrail's steel vertical bars were laser cut to evoke the swelling shape of the building's exterior volume.
Two identical sofas 12 feet long each were built to face each other and make the conversation pit.
The living studio below 10' tall maple plywood panels clad the walls and the sitting window nook with the framed view to the north. Floor to ceiling sliding pocket doors give access to the bathroom and the closet. Green grout is not commercially available, so it was custom mixed to match the Moroccan tile that's used on the floors, walls, sink, and bathtub. In the closet, Douglas Fir ABX plywood was used to make cabinets and shelves.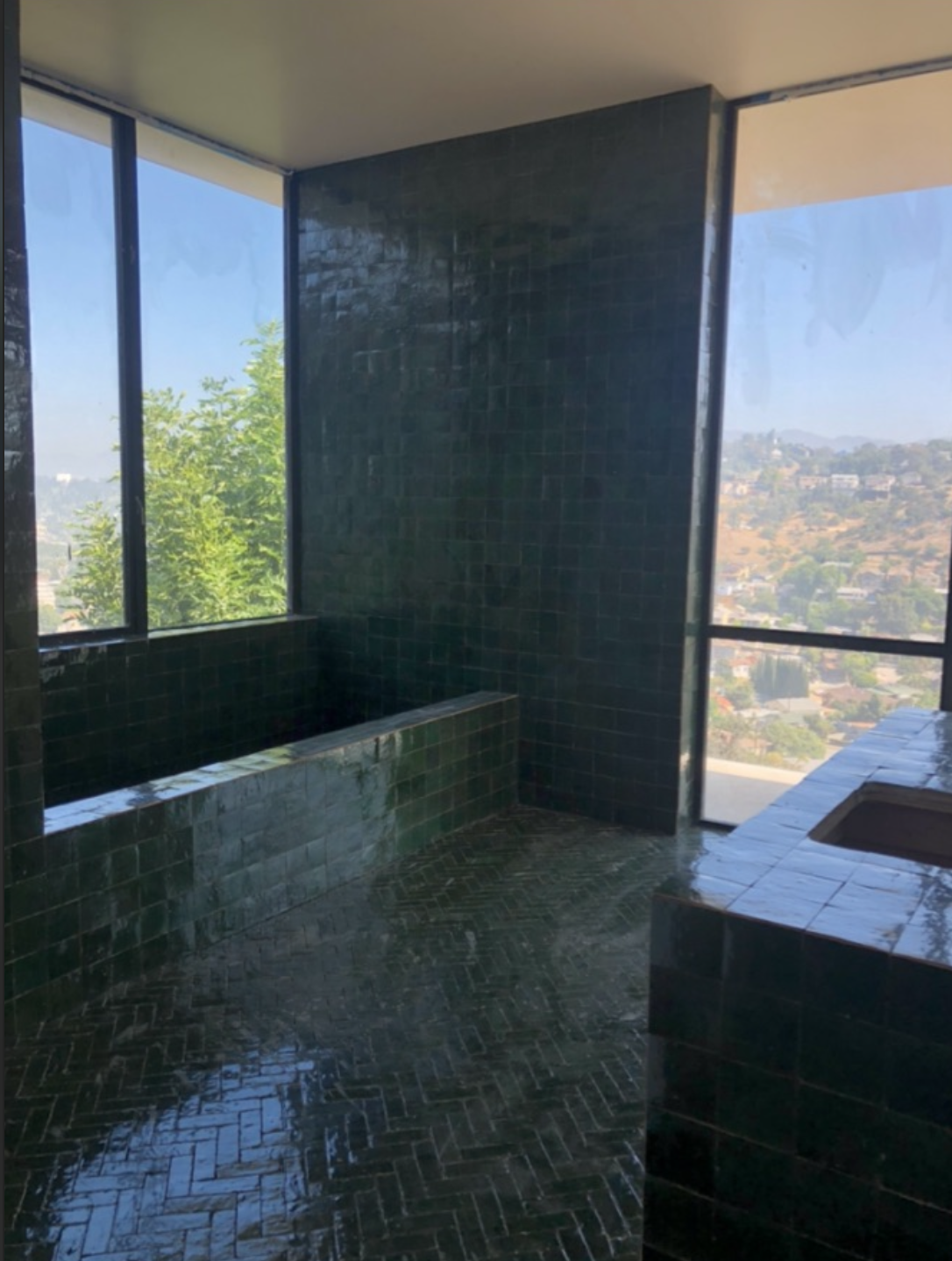 Marcela Rojas, our mum, painted the mural with Costa Rican scenes from our homeland.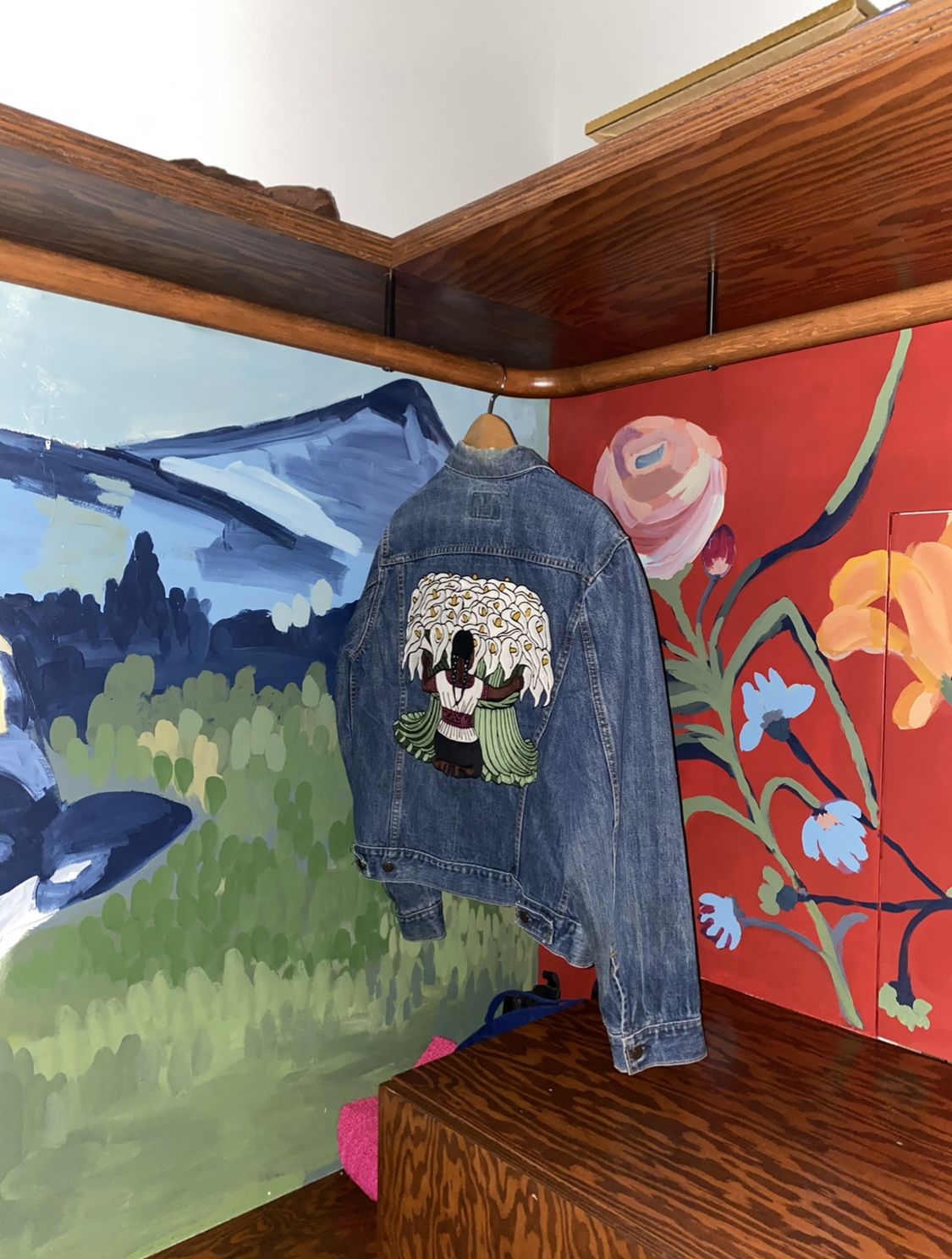 Architect:
David Gonzalez Rojas

General Contractor:
Waconah Construction

Structural Engineer:
Thang Le and Associates

Geotechnical Engineer:
Bay Cities Geology

Millwork Design:
Olga Oreshkina, David Gonzalez Rojas, A.G. Rojas

Millwork Paintings:
Marcela Rojas

Millwork Construction:
Miguel Rojas Fabrication

Kitchen Millwork Construction:
Monsterkraft Werks